Computational Fluid Dynamics (CFD)
e3k's award winning CFD engineers have been developing and expanding their expertise in Computational Fluid Dynamics (CFD) analysis since 1995. We have helped many clients produce world class products and get the edge they need to eclipse their competition.
Our CFD engineers have upgraded their in-house hardware to a new 32 core workstation using Intel Xeon E5-4627v2 processors, bench-marked as the fastest 32 core setup on the market today. This means we can solve complex problems for you faster than ever before.
Our consultants at e3k are highly trained and qualified in CFD, with capabilities which include particle tracking, turbulence modelling, heat transfer, compressible flows, acoustics, wind loading and combustion reactions. e3k's CFD engineers use the ANSYS CFD Premium package combining CFX and FLUENT, both recognised as world leaders in simulation code. Our engineering team owns the latest licence release with a High Performance Computing (HPC) pack for parallel processing enabling large and highly detailed models, still with short delivery times. This software was chosen as it is among the most versatile, reliable and accurate benchmarked codes available worldwide.
"ANSYS is the global leader in engineering simulation. We help the world's most innovative companies deliver radically better products to their customers. By offering the best and broadest portfolio of engineering simulation software, we help them solve the most complex design challenges and engineer products limited only by imagination." – ANSYS Inc.
ANSYS has approximately 40,000 customers and is 45 years old. The worldwide headquarters is located in Canonsburg, Pennsylvania, USA.
Our consultants also have experience with wind and water tunnel flow testing, with various sites around Australia available for air flow and water flow experiments for verification of CFD.
Computational Fluid Dynamics Case Studies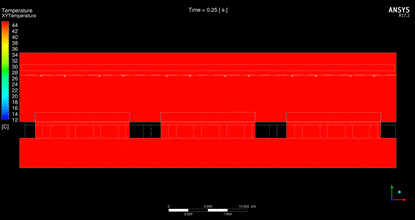 HVAC Analysis for a Dubai Shopping Centre
e3k performed air-conditioning simulations to demonstrate the effectiveness of a novel HVAC design in a new Dubai shopping centre. The design was revised after e3k found a sub-optimal temperature in a region. An improved vent layout was suggested which brought the region to the desired temperature.
Dubai Shopping Centre Smoke Study
Large modern buildings require full fire safety systems and CFD can assist in determining the efficiency of the emergency ventilation. This project had to meet the 2017 UAE Fire and Safety Code of Practice. e3k provided smoke generation expertise and smoke path analysis for a multi-level shopping centre in Dubai, UAE. The 5 megawatt fire generated smoke for 20 minutes and the escape paths were deemed to have acceptable visibility.
Aquatic Centre Temperature and Humidity Analysis
A Brisbane aquatic centre was being refurbished and the HVAC and natural-ventilation systems upgraded. e3k focused on natural and forced ventilation conditions where either the wind or extraction fans cooled the building. A pool model created moist air which was also analysed to determine occupant comfort.
Municipal Water Storage Tank Analysis for the Qatar World Cup
e3k performed municipal water storage tank analysis to show that unique Australian-designed water mixing systems could help maintain water quality during long term storage in preparation for a future football World Cup in Qatar. The work performed by e3k helped the Australian company win the bid to install their systems.
Olympic Swimming Pool Circulation Analysis
An Olympic-sized swimming pool was being refurbished with a new circulation system. Our client required CFD analysis showing their proposed nozzle layout was able to provide a minimum velocity in the pool and no 'dead zones' of slow-moving water flow. The initial analysis showed a small region of slow water in the deep end corner. An additional nozzle was included, satisfying the performance objectives of the CFD analysis.
Surfboard Fin Performance Analysis
Surfboard performance is historically assessed by the 'feel' of the surfer. e3k performed a series of CFD analyses on 3DFINS products to quantify the performance objectively. The novel, dimpled design can then be assessed against potential new designs without a surfer having to get wet. This technology gives 3DFINS a competitive advantage over their rivals in the surf industry.
e3k assessed the mechanical performance and efficiency of a novel steam turbine. Steam entered the turbine at close to the speed of sound, creating torque from both pressure and drag on the parallel plates.
Sewage Treatment Plant Digester
A Digester at an existing Wastewater Treatment Plant was to undergo a mechanical refit of its agitators. e3k conducted a multiphase process simulation of a recirculating jet nozzle piping system to show the level of mixing between the heavy particles and light fluids. Results showed a constant solids percentage was able to be achieved during operation.
SeaUrchin Marine Power Generator
This revolutionary technology is designed to economically capture the vast kinetic energy of the world's ocean streams, tidal currents and river flows and convert it into a steady, reliable and therefore base load source of electricity. The underwater turbine contained within a uniquely designed and readily fabricated housing is able to extract greater power from a water flow than an exposed marine propeller alone. In 2012, the SeaUrchin Marine Power Generator won a coveted Australian Engineering Excellence Award.
Modelling of a Building Fire
A CFD study was undertaken on a building fire within an accommodation complex. Results from the study were integrated into the police investigation enabling determination of cause and qualification of the overall building hazard. The same simulation technology has since been successfully validated by e3k against experimental data in a full-scale mock building burn.
Optimisation of a Francis Turbine for Hydroelectric Power Generation
A comprehensive hydraulic design optimisation was undertaken for a customised 4MW low-head hydro installation in New Zealand. The study involved computational fluid dynamics (CFD) modelling of the water flow through the machine and application of hydraulic engineering principles. Cavitation performance was also examined. Modifications were made to the scroll case as well as to the runner blade profile to improve overall hydraulic performance. Engineering advice was provided on the specialised blade material. An absolute increase of approximately 5% in efficiency was attained as a result of the improved geometry.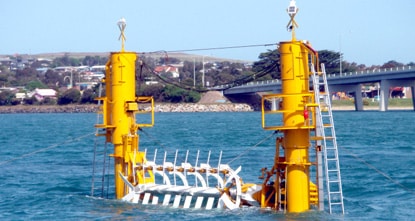 Ocean Current Renewable Energy Generator
In the year 2000 e3k was engaged to develop unique concept methods for generating electricity from ocean currents. e3k performed CFD simulations and water tunnel testing. The CSIRO list this technology in their 2016 "Ocean Renewable Energy 2015-2050" report, Pg. 75, stating the technology "is designed to extract the maximum amount of energy from shallow flowing water." e3k's research formed the basis for the AN150 Series turbines from Atlantis Resources Limited. ARL, which grew from this world-patented technology, listed on the London Stock Exchange in 2014 and is now considered a world leader in ocean turbine technology.