Finite Element Analysis (FEA)
Do you want to know the strength of your design? Will it pass a required load test? Will it have the required service life? Is it flexible or rigid enough? Can it be made lighter while still maintaining the required strength?  Do you need these questions answered without producing costly physical prototypes?
The award winning team at e3k have Finite Element Analysis (FEA) specialists that have 20 years of experience using FEA as part of the engineering design process. e3k can efficiently evaluate your design using professional FEA software on our in-house 32 core high performance computer. The experienced professional engineers at e3k have a proven track record of delivering top quality results for clients, saving time and development costs for them.
e3k not only perform analysis for clients, but have the skill and expertise to interpret the results and optimise designs based on criteria such as weight saving, strength and stiffness, flexibility, noise reduction, cooling performance, and fatigue life.
e3k can perform the follow types of simulations for you:
Stress, Strain, and Displacement
Buckling
Modal or Natural Frequency Analysis
Frequency Response (e.g. Response to Forced Vibration)
Transient Response Analysis
Contact Surfaces (e.g. Threads)
Thermal Behaviour
Fatigue Analysis
Drop Tests
Finite Element Analysis Case Studies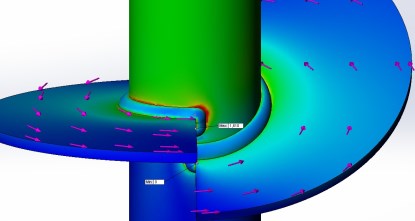 Screw Pile FEA
As part of a design and weld specification review, e3k engineers performed Finite Element Analysis on a 3D model of the screw pile to simulate the loads on the pile as it is screwed into the ground.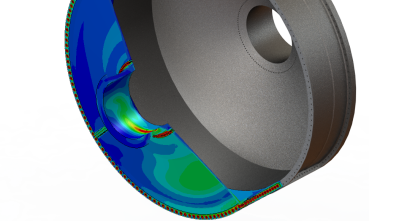 SAG Mill Independent Design Review
e3k performed an independent design review of a new replacement SAG Mill for a Copper and Gold mine in Papua New Guinea. The review included FEA analysis of the new design and meetings with the design team in the USA.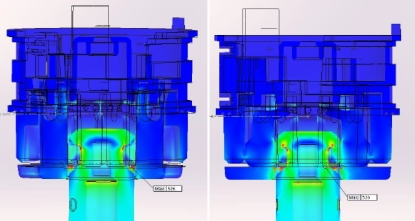 Smart Lock Performance Improvement
e3k were asked to solve a problem with the performance of a smart locking device. As part of the investigation, e3k performed a contact Finite Element Analysis on the whole assembly to see how the components interacted when under load. The analysis was performed on e3k's in house 32 core high performance computer.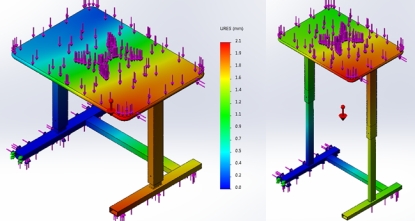 Sit/Stand Height Adjustable Desk
e3k designed a new height adjustable desk for use in both sitting and standing modes. As part of the design process e3k engineers used FEA and advanced motion simulation to predict the performance of the desk when subject to Australian Standards tests.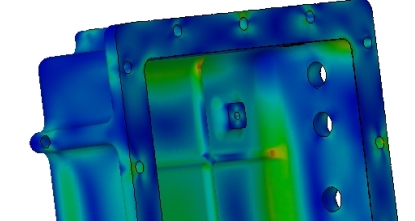 Explosion Proof Chamber
e3k engineers used andvanced Finite Element Analysis to test and improve the design of an explosion proof chamber. A number of design iterations and analysis were performed to optimise the design shape whilst still fitting within the design envelope.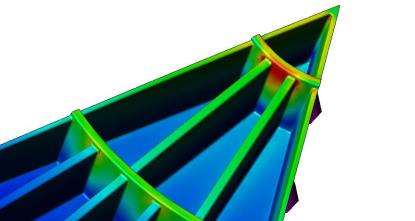 Australian Standard test simulations for waste water tank
e3k performed a number of FEA simulations on the first product using the award-winning Joinlox® system, a waste water tank for Biolytix. The analysis performed by e3k helped optimise the design of the Joinlox® system and predict the behaviour of the joints and the whole tank under Australian Standard test scenarios.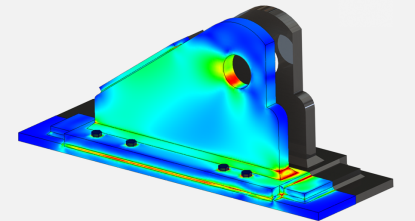 Crusher Feeder Repair
e3k engineers project managed the repair of a crusher feeder. As part of the project, FEA was performed on the hydraulic ram connection lugs and on specially designed lifting platforms to enable the crusher feeder to be lifted whilst it was pushed back into the correct position.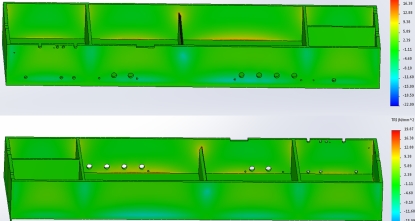 Steel Reinforced Concrete Tank
e3k engineers project managed the repair of a steel reinforced concrete tank in South East Asia. As part of the project, FEA was performed on the tank in the damaged condition, and the original installed condition, to give an indication of the changes in stresses within the tank caused by the damage to the tank.
Australian Standard Pressure Vessel Simulations
e3k performed a number of FEA simulations on the bore of hydraulic rams. Based on the initial simulations, e3k engineers were able to recommend improvements to the design to lower the stresses to acceptable levels. FEA simulations of the new design were shown to pass the strength requirements of Australian Standard AS 1210.
More Examples of FEA performed by e3k - Read More
Static and dynamic analysis of magnesium torque converter housing for Ford
Detailed design and analysis of a novel internal combustion engine
Hydraulic bolt tensioners for US and EU Nuclear Power Industry
Audit of hydraulic actuator for aircraft emergency generator
Francis Turbine for New Zealand Hydroelectric projects
Design of aircraft tie down fitting for Brisbane Airport
Ocean Power Turbine design for injection moulding
Server tower earthquake rating simulations
Helicopter crash failure analysis
Contact Us
Do you have questions about how e3k can help your company? Fill out the form and we'll get in touch shortly, or phone between 9:00am and 5:00pm Monday to Friday — we would be delighted to speak with you.
Address
BTP Conference Centre
1 Clunies Ross Court
Eight Mile Plains   4113
Queensland   Australia